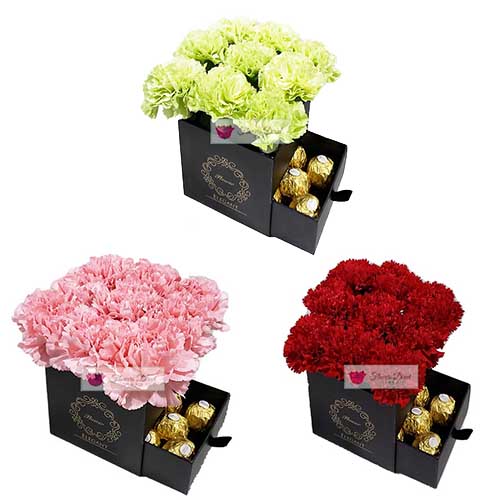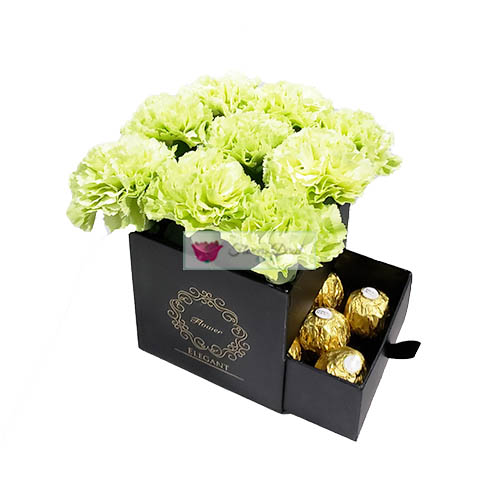 Carnation Gift Box Cebu comes with 9 carnation flowers in pink, green or red and 6 count Ferrero in a black gift box.
Flowers Direct Cebu
Flowers Direct Cebu is a local family owned and operated business. We offer personalized service of gift and flower delivery in Cebu Philippines. Our family handles all aspects of the business and orders from start to finish. Every customer is treated like family and we only serve Cebu so we know it well. We offer great products for great prices, no exceptions.
Cebu Flower Shop
Cebu Flower Shop with 5-star service, delivery and satisfaction guaranteed. We offer Gift and Cebu Flower Delivery around Cebu and Mactan Island in the Philippines. We make each Flower Arrangement custom, by hand and in our own Cebu Flower Shop.
Florist in Cebu
Our Florist in Cebu only use the freshest flowers, most importantly this ensures that all orders are custom made by our Florist in Cebu Flower Shop and delivered the same day for lasting freshness. Our Florist in Cebu have years of experience and put their loving touch into each Flower Arrangement.
Every single order is handled by our family in our own flower shop right here in Cebu. Each order is made to perfection and hand delivered by us.
You can be certain that your information and payment will be secure. We accept all major credit cards through Paypal, or message us your order and send payment by bank transfer.
We only serve Cebu therefore we know it well. Our family will treat you like family, because Flowers Direct Cebu is local, and family owned and operated.
Above all, make them smile, order Cebu Flower Delivery and Send Flowers to Cebu Philippines. Flowers Direct Cebu Flower Delivery & Florist in Cebu Flower Shop
Cebu Flower Delivery
Cebu flower delivery by Flowers Direct Cebu offers a very comprehensive listing of products for many occasions including Anniversary, Birthday, Special Events, Sympathy, funeral, gifts, and congratulations. We have different flower arrangements to include wrapped flowers, box flowers, basket flowers, vase flowers and much more. Some of the products available at the Cebu Flower Shop are Stuffed Teddy Bears that light up, Panda Bear, cake, chocolate, candy, giant teddy bears, life size bear and lots more.
Cakes made right here in Cebu include Birthday Cake, Black Forest Cake and Tiramisu Cake from the famous Red Ribbon.
Monday – 1pm-6pm
Tuesday – Saturday 9am-6pm
Sunday – No deliveries
Click the picture above to see our Business Registrations and Verification's.
Flowers Direct Cebu is NOT affiliated with any other flower shop or flower ordering website.  We custom make 100% of the orders in our Real flower shop location in Cebu.
All pictures on our website are 100% real. We have the actual products in stock. Also, we have designed and made all flower arrangements shown on our website. Customers are welcome to stop by our flower shop to see our in-stock gifts.
Flowers in Cebu Flower Shop by Flower Direct Cebu flower delivery. Certainly, offering only the best to our valued customers and family.