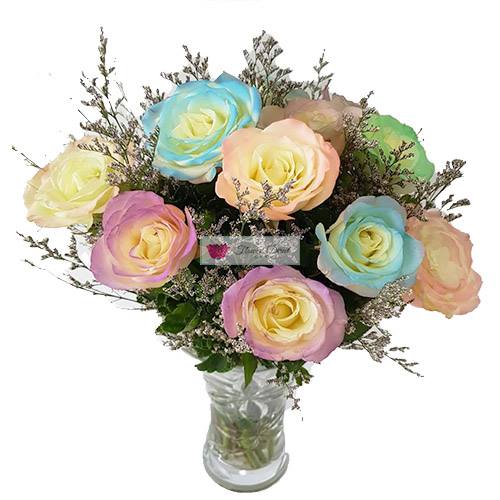 White Roses sprayed with multi colors mixed with Misty flower in a vase
Flowers Direct Cebu
Cebu flower shop, Cebu flower delivery, Cebu Flower, Local Family Owned and Operated Business.
Cebu Flower Shop
Located in Cebu with 5-star service, delivery and satisfaction guaranteed. We offer Gift and Cebu Flower Delivery anywhere on Cebu and Mactan Island in the Philippines. Our Cebu Florist make each Flower Arrangement custom, by hand and in our own Flower Shop.
Florist
Our Cebu Florist only use the freshest flowers picked daily, most importantly this ensures that all orders are custom made by our Florist in our Cebu Flower Shop and also delivered the same day for lasting freshness. Our Cebu Florist have years of experience and put their loving touch into each Flower Arrangement. Our Florist continue to improve with each Flower Arrangement and search for new ideas to bring joy to your loved ones.
Cebu Flower
Almost all the flowers used are grown in house, therefore you will receive the freshest flowers cut daily. Specialty flowers are sourced from other local or imported suppliers.
Every single order is handled by our family in our own flower shop right here in Cebu. Each order is made to perfection. I will be the one processing your order whether by phone, website or Facebook. My brother and mama will be tending to the flower fields. My sisters will be arranging the flower bouquet. And my brother will be delivering the order. We treat every customer like family, so you can be assured that we will only give you the best service, best price and the best product. We guarantee it.
You can be certain that your information and payment will be secure. We accept all major credit cards or message us your order and send payment by bank transfer.
We only serve Cebu therefore we know it well. Our family will treat you like family, because flowers direct Cebu is local and family owned and operated.
Above all, Make them smile, order Cebu Flower Delivery and Send to Cebu Philippines. Flowers, Gifts and More.
Cebu Flower Delivery
Flowers Direct Cebu offers a very comprehensive listing of products for many occasions including Anniversary, Birthday, Special Events, Sympathy, funeral, gifts, congratulations and Weddings, therefore some people consider us the best. Some of the products available at the Cebu Flower Shop are Stuffed Teddy Bears that light up, cake, chocolate, candy, Red Rose, Blue Rose, Heart of Rose, Malaysian Mums, Gerbera, Star Gazer, Baby's Breath, Box of Flowers, Flowers Wrap, Painted Flowers, Sprayed Flowers, Emoji Pillow, Heart Face, Kissing Face, cheap flowers under 1k, gift cards to SM and so much more. Looking for something else that is not listed? Contact us and let us know what is needed.
Cakes made right here in Cebu include Birthday, Black Forest Cake and Tiramisu from the famous Red Ribbon.
Follow us on Facebook. Flowers Direct Cebu Florist
Some of the areas served include; Cebu Flower Delivery, Cebu City, Mactan Florist, Lapu Lapu, Mandaue City Florist, Consolacion, Talisay City, Naga, CarCar, Danao, Freedom Park Cebu Florist, Mabolo, Toledo and Balamban.