White Pink Roses Cebu
2 dozen  Pink and White Roses in a nice wrap.
4 Dozen Roses Cebu in a nice wrap, roses can be red or pink.
Birthday Roses Cebu City 12 Pink Roses in a nice vase make a great birthday present.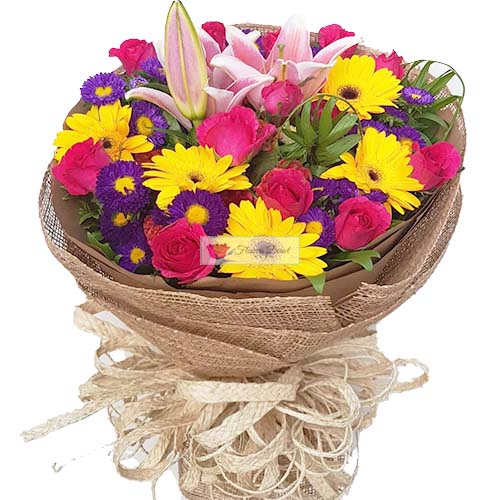 Birthday Surprise Cebu
12 Roses mixed among other flowers to make a nice wrap.
Birthday Wrap Cebu
12 Roses mixed among other flowers to make a nice wrap.
Box of Flowers Cebu  full of roses, liliums and carnation flowers.
Carnation cup Cebu in a Reusable 4″ coffee cup.
10 red, green or pink carnations with a sunflower
Carnation Flower Box Cebu with real wood box.
This is a garden flower arrangement of 3 different colors of a beautiful Carnation flowers matched with a sunny sunflower and misty blue fillers.
Anniversary Flowers
Anniversary Flowers Cebu, Besides a hug and a kiss, Flowers are the next most common way to show your love. By far red roses are the most common flower to give. Red is a sign of love. Below are some common types of flowers to give on your yearly anniversary. When in doubt it is always a safe bet to go with red roses. Flowers don't last forever, therefore we recommend adding a light up stuffed teddy bear to your order. This way it will be remembered for years to come.  Don't forget that if you are a new couple than you should also celebrate your monthsary.
Anniversary Flowers Cebu
All orders receive a free customized greeting card. Provide card message at checkout.
Delivery Policy
Delivery Times;
Monday – 1pm-6pm
Tuesday – Saturday 9am-6pm
Sunday – No deliveries
Anniversary flowers direct cebu. Certainly, offering only the best to our valued customers.