Roses Cebu Delivery
Roses Cebu Delivery
Besides a hug and a kiss, Flowers are the next most common way to show your love. By far red roses are the most common flower to give. Red is a sign of love. Below are some common types of flowers to give on your yearly anniversary. When in doubt it is always a safe bet to go with red roses. Flowers don't last forever, therefore we recommend adding a light up stuffed teddy bear to your order. This way it will be remembered for years to come.  Don't forget that if you are a new couple than you should also celebrate your monthsary. Roses Cebu Delivery
Red
Love, Beauty, Courage and Respect, Romantic Love, Congratulations, "I Love You", "Job Well Done", Sincere Love, Respect, Courage & Passion.
White
Purity, Innocence, Silence, Secrecy, Reverence, Humility, Youthfulness,
"I am worthy of you", Heavenly
Pink
Appreciation, "Thank you", Grace, Perfect Happiness, Admiration, Gentleness, "Please Believe Me"
Yellow
Joy, Gladness, Friendship, Delight, Promise of a new beginning, Welcome Back, Remember Me, Jealousy,
"I care"
Red and White Given together,
these signify unity
Rose Cebu Delivery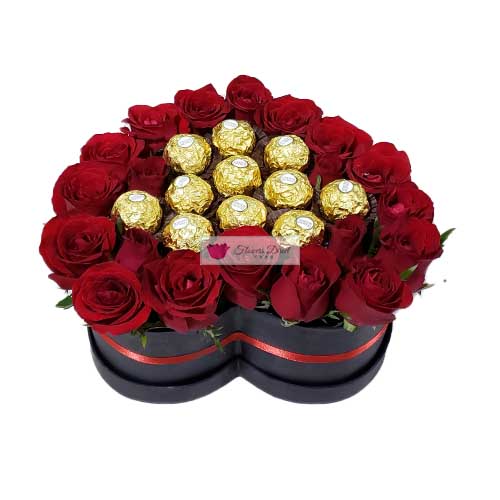 Heart Box of Flowers Cebu w/ Ferrero Chocolate
Heart Box of Roses (Red) with Ferrero Chocolate Candy.
20-24 short stem red roses in a black heart shaped box with 11 pieces of Ferrero.